Honesty, Respect and Responsibility – Our fundamental values.
For us important keywords that are supportive in our decisions, operational as strategic. They also give us guidance on how we want to be perceived by our surroundings, customers and suppliers. How we are in the relationship with each other as employees. How we relate to quality and the environment, everything that is related to our business.
By consistently following our values, we become a safe and predictable partner and employer.
Business concept
EA Elautomation AB offers design, project management, assembly and installation of electrical equipment for power distribution and automation. We are to be market leading in our line of business and you will find our customers in industry, OEM and electrical power.
The combination of competences and efficient production resources makes us a safe supplier. With flexibility, competence and simplicity, we are the customer's problem solver and long-term partner.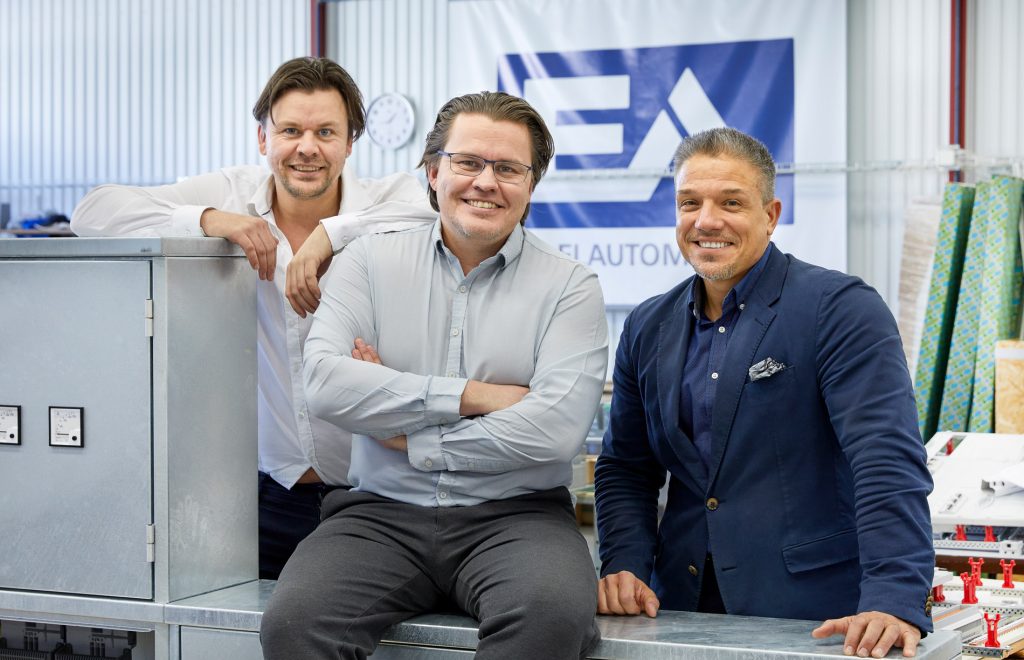 History
1895
Axel Svensson is born in Sundsvall. After technical studies in Västerås, he was employed by formerly ASEA (ABB today). From the early 20s and a number of years to come, he had the whole world as his workplace and participated in various projects, including the construction of ASEA's first factory in Russia and the electrification of the railway in England.
1948
Axel Svensson acquires the industrial company Aros, a company that repairs and winds electric motors. The company is located on Stora gatan 49 in Västerås with seven employees.
1954
The industrial company Aros moves to its own premises on Navigatörgatan 10 in Västerås. The business was developing and soon included repairs and sales of pumps, hand tools and all types of appliances.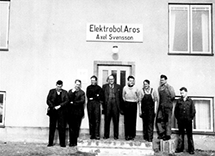 1960
Elektro AB Aros is founded.
1969
Bertil Svensson takes over the helm of the company and continues to develop the company with design and production of switchgear, pulpits and control equipment. In parallel with this, Bertil Svensson is also co-founder of Aros Electronics. The company, which is based in Mölndal, manufactures customer-specific engine controls and sensors in the industry.
1984
Susanne Hedman is appointed new CEO.
1987
Elektro Aros Montage AB is founded as a subsidiary of Elektro AB Aros. A natural step when demand in the fields of switchgear, pulpits and control equipment intensified.
2000
The office and production premises are being expanded and modernized to meet the increased demand. ISO Certified.
2005
Elektro AB Aros has out-grown its premises on Navigatörsgatan and moves to new suitable premises at Erikslund in Västerås.
2006
Industriservice Isaksson & Nilsson is acquired in February of 2006. To mark the development, the name is changed to EA Elautomation.
2008
EA Elautomation recruits external CEO, Jan-Olof Thunell. Susanne Hedman turns to a role as Marketing Manager. The increased turnover drives the pace of change in the company's internal processes, a new logistics manager is employed.
2009
The company's good growth continues with a doubled turnover of 5 years, we now have sales of SEK 55 million. With our new team lineup, we are now investing ahead to increase our market shares and broaden our customer base.
2010
EA Elautomation founds the subsidiary EA Baltic in Lithuania. The establishment in Lithuania is done as a part of offering even more flexible production arrangements. The focus for EA Baltic is the assembly and testing of control equipment of switchgear.
2011
EA Elautomation group is growing and we have a turnover of SEK 63 million. During the year, we recruit a production manager for the operations in Västerås.
2013
The corporate group's growth continues and we are proud to be approaching SEK 100 million in sales.
2014
EA Elautomation employs Ola Hedqvist as sales manager for low voltage switchgear.
2016
The operations of EA Baltic in Lithuania continue to show positive growth and our team grows to 40 employees.
2017
We undergo re-certification of our ISO system which we have had since 2000 and are now approved according to latest standard, ISO9001:2015.
2018
EA Elautomation surpass SEK 91 million in turnover.
Quality policy & certifications
EA Elautomation is to be a competent partner and deliver services and products of the right quality at the right time.
We should all work together to meet our customers' requirements and the expectations of other stakeholders. In addition, each delivery or work performed must be a great reference for further business. This is a prerequisite for good profitability, our development and long-term survival.
Our management system for quality must be continuously adapted and redesigned to support our business. It should initiate improvements to both the system and the processes needed to achieve the desired degree of customer satisfaction.
Our reputation is determined by the commitment we show in our work, through our resources and, above all, through our attitude towards quality.
EA Elautomation is certified according to ISO 9001:2015 and UL approved.




Environmental policy
Our direct impact on the external environment consists of the consumption of natural resources, residual products from the business and energy consumption.
We are constantly striving to reduce the overall environmental impact of our operations. Therefore, we prioritze collaborations with companies and suppliers who are environmentally certified and whose products are environmentally friendly, as far as technologically and ecnomically possible.
We also strive to choose technological solutions in our deliveries that reduce our customers' environmental impact where possible.
This means that:
our operations are conducted in accordance with environmental legislation and applicable regulations
we work to ensure that environmental issues are taken into account in business decisions
we work to ensure that environmental issues are taken into account in the technological solutions we recommend to our customers
we develop the employees' competence and awareness in the environmental area both through education and participation in the company's environmental work.
Work with us
We are always looking for new employees both in production and administration. Are you motivated by new challenges that occur daily, are you a CAD-ace or the next handy McGyver? Maybe you have a preference for order and spend your Friday nights with Mrs. Excel?
The mixture of competencies is endless and so are the possibilities. Different types of challenges for different types of individuals. Here is the opportunity to work with both national and international market in a familiar and warm organization.
We look forward to hearing from you.